Deluxe Porsches prove to be fan favorite at PCCNA Round 7 at Indianapolis
09/05/2022 – 311RS Motorsport  delivers fans unprecedented team access during Porsche's Sportscar Together festival.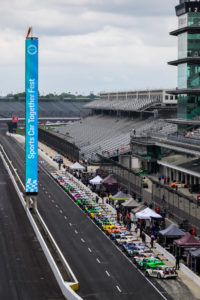 Round 7 of Porsche Carrera Cup North America headed to the "Racing Capital of the World", the Indianapolis Motor Speedway. Well-known for hosting the Indy 500, it was an honor for the Deluxe drivers to create their own memories at "The Brickyard" with 35+ Porsche 992 GT3 Cups, including special guest NASCAR legend Jeff Gordon competing with PCCNA for the first time.
A highlight of Porsche's Sportscar Together festival is the unique fan interaction during the event. 311RS Motorsport hosted two "Master Class" garage tours to Porsche VIPs and lucky Porsche Club of America members. These 30 minute events gave fans an in-depth look at the Deluxe Porsche 992 GT3 Cups hosted by the drivers themselves. Fans received commemorative Deluxe team gear, produced by Deluxe as part of our partnership.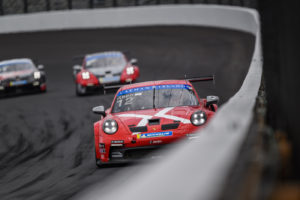 The action on track at Indy was non-stop in both races. Race 1 started on a wet, but drying track so the cars started on Michelin Dry Weather tires. Both #11 & #12 Deluxe drivers ran in the top 10 during the race until contact forced the #11 of Dimitri Dimakos back to 16th. Leh Keen in the #12 finished P6.
Race 2 was even more intense, with the Deluxe Porsches running 5th & 6th when an incident ahead caused chaos for the entire field. A driver behind misjudged a braking zone during the chaos and spun Dimitri in the #11 around, sending him to the back of the field. This made for an exciting charge back through the field in the final 20 minutes resulting in a Top 10 finish, with Leh Keen in the #12 finishing in the Top 5.
Qualifying:
#11 Dimitri – P11
#12 Leh Keen – P6
Race 1:
#11 Dimitri – P16
#12 Leh Keen – P6
Race 2:
#11 Dimitri – P10
#12 Leh Keen – P5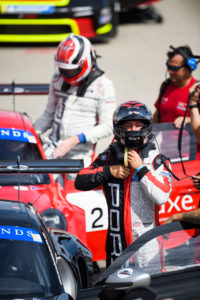 Quote from Dimitri, driver of the #11 Deluxe Porsche 992 GT3 Cup "Big thanks to the @311rsmotorsport team and @deluxecorp for making the Porsche Sportscar Together Fest a success! As always, I truly appreciate all my family and friends who came out to support"
Quote from Leh, driver of the #12 Deluxe Porsche 992 GT3 Cup "Indianapolis delivered another great PCCNA race weekend, especially with all the fans supporting the @deluxecorp Porsche 992 GT3 Cups in our garage!! Thanks @311rsmotorsport."
Follow along with the team as it heads to the season finale of PCCNA at Road Atlanta on September 29-30th, 2022