"Life moves pretty fast. If you don't stop and look around once in awhile, you might miss something."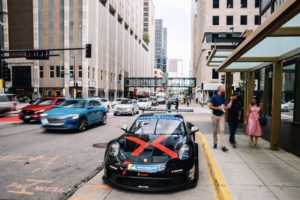 This quote from Ferris Bueller rang especially true earlier this week as we had the #11 Deluxe Porsche 992 GT3 Cup on the streets of downtown Minneapolis for Deluxe's annual board meeting.
A factory-built race car placed in the center of downtown Minneapolis during rush hour made for quite the scene. What's funny, is this is not the first time we've had the #11 in a downtown setting – earlier this season we attended Deluxe's Sale Kick Off event in Dallas, TX.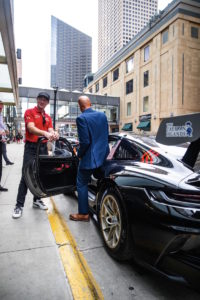 "Uber for Deluxe is here." Team Principal, Ryan Gates, was on hand to show the Deluxe board members around the amazing new Porsche 992 GT3 Cup.
There is no preparing yourself for the first time you meet a factory race car. The pure purpose-built functionality & technology mixed with the smells & sounds are unlike anything else. We enjoy these moments as it reminds us of earlier last season when we met the Porsche 992 GT3 Cup for the first time.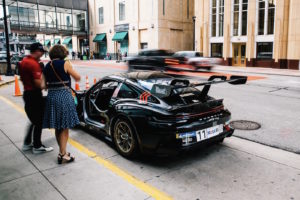 In this photo Ryan disccusses the #11 Deluxe Porsche 992 GT3 Cup with Deluxe CMO, Heather Teskey. She was involved in the design process and made the final call to go with the all black with big red "X" livery. It was cool to see her reaction to seeing the car in person, a proud moment for all involved.
In the end, it's all about the people and we're lucky to be surrounded by wonderful people not only on our team and with Porsche, but also our partners at Deluxe. Pictured here is Dan Niccum VP of Business Development at Deluxe, Cheryl E. Mayberry McKissack Chairwoman of the Deluxe Board of Directors, and Barry McCarthy CEO of Deluxe.
We would like to thank all the Deluxers who have played a role in making this partnership with Porsche a reality. We are proud to represent this historic MN-based company with our team. Here's to creating more memories together.
Accelerate your business with Deluxe
Photos: Courtesy of Peter Lapinski