311RS Motorsport brings second the Deluxe Porsche 992 GT3 Cup for Road America home race.
Round 6 of Porsche Carrera Cup North America took place in Elkhart Lake at Road America, known as "America's National Park of Speed". This 4.1mi national treasure is the team's home track, and with Deluxe bringing 20+ employees and clients, we chose to celebrate the occasion with a second Deluxe Porsche 992 GT3 Cup.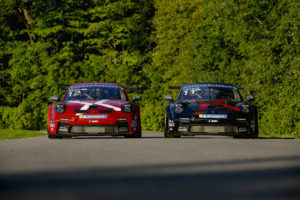 In addition to the #11 Deluxe Porsche of Dimitri Dimakos, the #12 of Leh Keen made it's debut as part of the Deluxe Porsche team. Both drivers were firmly in the top 10 to start the weekend and in good position for a solid showing in front of the Deluxe Porsche family.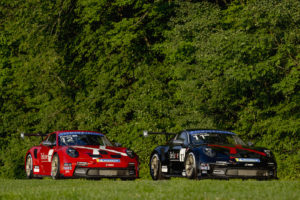 Road America delivered great racing with 35 Porsche 992 GT3 Cups on track together for each race. Race 1 took place on Saturday under the warm summer sun, with the Deluxe Porsches finishing P5 & P8 at the end of the 40min race.
Sunday's race was a different story, as rain overnight made for an intense wet race. The #11 Deluxe Porsche of Dimitri ran in P3 for most of the race until late race contact injured the car – Dimitri brought the car home in P7. The #12 of Leh Keen pushed his way through the field up to as high as P5. An incident in the tricky conditions earned the #12 a drive through penalty, ending Leh's race up front.
Qualifying:
#11 Dimitri – P5
#12 Leh Keen – P10
Race 1:
#11 Dimitri – P5
#12 Leh Keen – P8
Race 2:
#11 Dimitri – P7
#12 Leh Keen – P13
Quote from Dimitri, driver of the #11 Deluxe Porsche 992 GT3 Cup "All smiles from our end after an exciting event at Road America. A little bad luck in the last race, but took away some great knowledge and had fun with the @311rsmotorsport team by my side. Thank you to the whole team and everybody who came out and supported us, it means the world to me."
Quote from Leh, driver of the #12 Deluxe Porsche 992 GT3 Cup "Exciting weekend with highs and lows! The # 12 has never looked better now rocking the X @deluxecorp. Thanks @311rsmotorsport"
The Deluxe family of employees and clients visited the 311RS Motorsport team in the pits to meet the drivers, sit in the Porsche 992 GT3 Cup cars, and take a drive on the team's GPX racing simulator. Each member of the Deluxe family received team gear to celebrate the occasion, which was produced by Deluxe as part of our partnership.
Click here to learn more about our partnership with Deluxe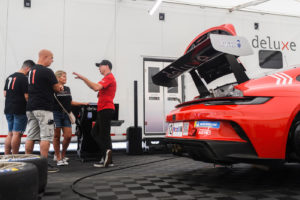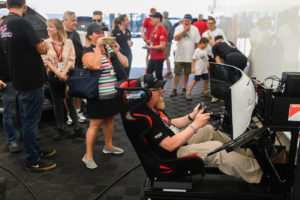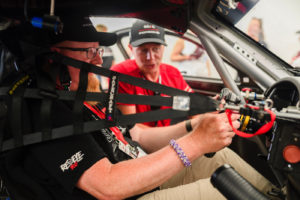 Watch the exciting Race 2 from Road America below. Follow along with the team as it heads to Round 7 of PCCNA at Indianapolis Motor Speedway  on September 2-4th, 2022 – @311RSMotorsport