Watkins Glen is the home of PCCNA Round 4. A track known for it's "old school" look and feel, with long flowing corners and endless elevation. It would be Dimitri's first time at the track, however his ability to learn on the fly combined with Leh's experience at Watkins (won the Sahlen's 6hr with Brumos in 2011) meant the team were confident we'd be up to speed from the get go.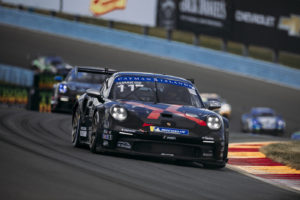 Qualifying:
#11 Dimitri – P9
#12 Leh Keen – P5
Race 1:
#11 Dimitri – P10
#12 Leh Keen – P5
Race 2:
#11 Dimitri – P8
#12 Leh Keen – P5
Both drivers showed great pace in the races. Leh in the #12 battled with P3 & P4 the entire time. While the #11 Deluxe Porsche of Dimitri had his Race 1 compromised with an incident on Lap 1, he showed composure all weekend and brought the car home in the points in both races.
PCCNA is headed to Canada for Round 5, however due to Canadian entry requirements, our team will not be attending. While unfortunate, our team is not alone in this situation. Our focus is on Round 6 at Road America on August 6-8th – Dimitri's "home track" and one that Leh podiumed at in 2021.