Following Round 3 at Laguna Seca, the team traveled back to 311RS HQ in MN for some R&R during the 6 week break before Round 4 at Watkins Glen.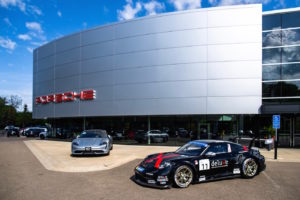 Whenever we are back in MN, we try find new ways to promote the team and our partners. In this case, we reached out to the team at Porsche Minneapolis to discuss the possibility of displaying the #11 Deluxe Porsche 992 GT3 Cup on the show floor.
With Deluxe also being MN-based, the conversation was easy and the next day we had the car on display. Please enjoy a series of images from MN's own Peter Lapinski. Thank you to the team at Porsche Minneapolis, Deluxe, and Peter Lapinski for making this happen.