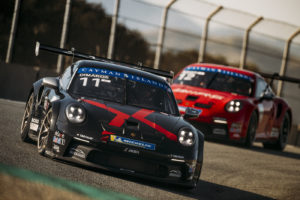 This event marks PCCNA's first trip to the famous Laguna Seca, in picturesque Monterey, California. Known for the "corkscrew", a left-right combo with a two story drop thrown in for good measure. The team was excited for this event following a good test. Both Leh & the guys on the team have plenty of experience here which meant full steam ahead.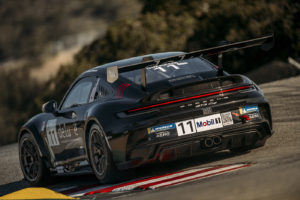 Qualifying:
#11 Dimitri – P6
#12 Leh Keen – P5
Race 1:
#11 Dimitri – P10
#12 Leh Keen – P14
Race 2:
#11 Dimitri – P6
#12 Leh Keen – P5
Both cars were quick but faced issues in Race 1 – in the #11 Deluxe Porsche, Dimitri became tangled with another car on lap 3 which caused a spin. He fought back through the field to a solid P10. Leh in the #12 finished in P4 after a great battle for P3, however failed post-race inspection when the LF camber slipped and caused the ride height to be 0.5mm too low. Race 2 was a bit smoother with the boys finishing nose to tail in P5 & P6.
Our first technical infraction, it hurts, but we know it was a fluke and we turn our attention to Round 4 at Watkins Glen. Watch the latest BEHIND THE WALL to see how it all played out at Laguna Seca.