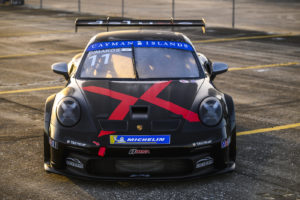 March 11th, 2022: Deluxe Corporation and Porsche Motorsport North America (PMNA) have established a long- term, multi-faceted partnership that will positively impact not only the Porsche Carrera Cup North America, but Porsche auto racing efforts on the continent as a whole. The agreement brings not only branding and activation initiatives but a direct working agreement as Official Partner and Official Supplier across the PMNA program.
Deluxe is a Minneapolis, Minnesota-based company overseeing one of the largest payment and business technology companies in the world. Founded in 1914, Deluxe has been an innovator creating the first checkbook as we recognize it today in addition to multiple tools which rapidly advanced printing. Today, the publicly traded Deluxe Corporation offers business products and services ranging from web marketing to payroll services, logo design to remote deposit capture, integrated receivables to proprietary marketing programs for banks. Deluxe has operations in the United States, Canada, Australia and Europe.
Deluxe has taken a key marketing partnership role with 311RS Motorsport and the #11 Porsche 911 GT3 Cup car driven by Dimitri Dimakos (Chicago, Illinois). The young phenom, who turned heads in his only appearance at the 2021 season finale. 311RS Motorsport debuted a stunning brand new Porsche 911 GT3 Cup car with major branding from Deluxe at the official test day at Sebring to start the season.